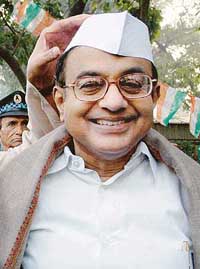 Palipappan Chidambram?? That's the best you could come up with?

Did you trip on some

bhang

and think that you were Prime Minister of Tahiti or Papua New Guinea??

We're in the midst of a war with an enemy who knows everything about us, and we have just a trickle of information about him.

They want us dead. They don't want to drive by and slash our credit rating.

You don't replace a soft-spoken effete Minister with another soft spoken effete minister. The guy who is famous for talking about a budget in 1997 which made the editor of the Economic Times ejaculate in his pants?

This is the ministry of home we are talking about here. The home minister needs to be a bad cop to your good cop. Although, in your case, good cop means the "huh?" cop.

You want to bring about real change instead of just talking about it?

Make Renuka Chowdhary our home minister. She's the only one in your cabinet who has some balls. Metaphorically, of course. You need someone in the home ministry who inspires fear in our enemies. This woman could pin down the great khali with one hand and show the finger to Zardari with the other.

She even scares me. And I don't scare easily. I once saw Jimmy Shergill trying to act. And there is nothing more scary than that.

Okay. Don't do it for us. Do it to save your seat. If you don't do something now, in six months, the country will vote that bald guy with a voice problem into office. And he's a real badass. If you don't beleive me, ask Jinnah.

So stop acting like a bumbling idiot and do something which is not mind bunglingly idiotic.

Or is that too much to ask?



Edit:

What I meant by this post was that it doesn't matter who we have as a home minister. We can put a scarecrow on the seat and it wouldn't matter. What we need to do is strengthen our capabilities instead of mere posturing. We need political will do take some action.