From The Guardian: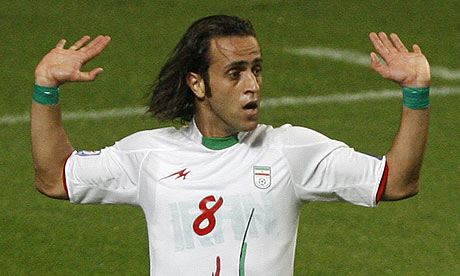 According to the pro-government newspaper Iran, four players – Ali Karimi, 31, Mehdi Mahdavikia, 32, Hosein Ka'abi, 24 and Vahid Hashemian, 32 – have been "retired" from the sport after their gesture in last Wednesday's match against South Korea in Seoul.

They were among six players who took to the field wearing wristbands in the colour of the defeated opposition candidate Mir Hossein Mousavi, which has been adopted by demonstrators who believe the 12 June election was stolen.

The fate of the other two players who wore the wristbands is unknown. None of the team members were given back their passports upon returning to Tehran after the match, which ended in a 1-1 draw.
How many people can they stop?